Let this be your cozy bowl of goodness for the season. You're looking at a chunky rice soup, studded with lots of chickpeas, flecked with kale, and drizzled with a vibrant garlic-chile oil. It has peanuts, and a dusting of turmeric. I made it for lunch, and decided at the last minute to pop off a few shots so I could share the recipe here. The whole thing is deeply satisfying and perfect as the weather cools off.

Rice Soup: The Ratios
You can play around with the type of rice (or rices) you use here. Because I was craving something light and extra-creamy for today's soup, I went with 100% Arborio rice. Often, I like to take more of a whole grain approach, and have a go-to ratio. I like 2 parts brown rice to 1 part white rice. So, for example, 1 cup brown jasmine rice, and 1/2 cup white jasmine rice. I use that ratio in this favorite Turmeric Congee and this Life-Changing Green Rice Porridge. So, yeah! Play around.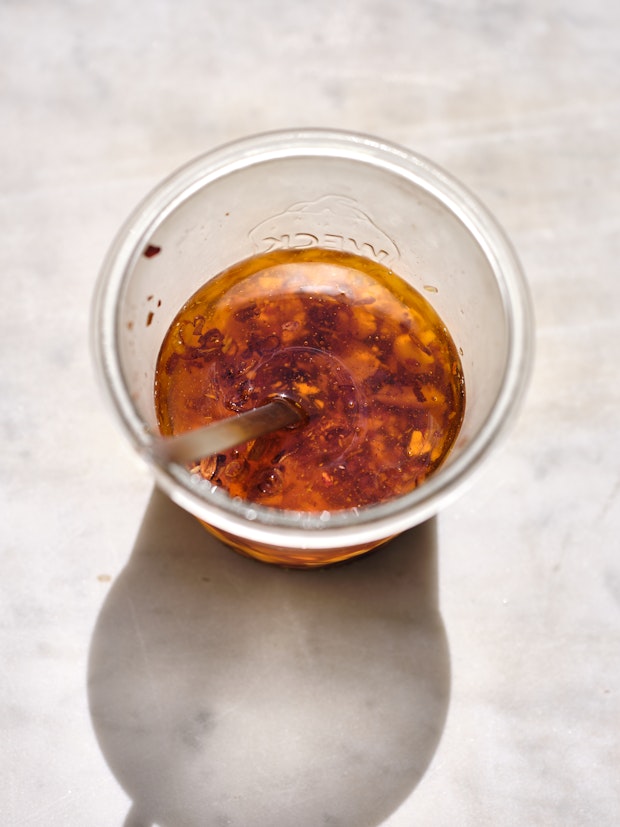 Chunky, Peanuty Garlic Chile Oil
It's the magic. This powerful, fragrant chile oil is good on just about anything, and (yes!) you can absolutely make it ahead of time. You'll likely have extra, so here are a few ideas. It is good drizzled on this Cauliflower Soup, this Asparagus Soup, and as an alternate finishing scenario for this Split Pea Soup. It's a nice finishing oil on open faced sandwiches, like this lentil version.
Seasonal Variations
I loaded up on the chopped kale in this version. It's an easy way to work a good amount of greens into a meal. That said, you can absolutely play around with whatever is in season. Late summer? Oven roasted cherry tomatoes would be beautiful on top, and explosively flavorful. Or, put a dent in summer squash by topping the soup with this Simple Sautéed Zucchini. Early autumn? Roasted delicata squash is always a favorite.